Greenberg Gross LLP Ranked in Benchmark Litigation California 2018; Both Founding Partners Ranked as Local Litigation Stars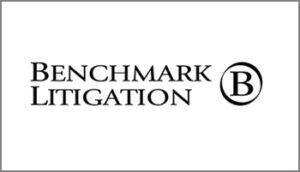 We are pleased to announce that Greenberg Gross LLP has been ranked in Benchmark Litigation California's 2018 edition, and Partners Alan Greenberg and Wayne Gross have been ranked as Local Litigation Stars. The team was recognized for their work in white collar, general commercial litigation, class action, real estate and securities. A client voices appreciation for the firm's "dedication to grasping issues quickly; expertly balancing business realities with legal considerations; and willingness to go above and beyond to get it right."
Benchmark Litigation noted that Greenberg and Gross arguably handle some of the most high-profile cases in the country.
Benchmark Litigation is the only publication to focus exclusively on U.S. litigation. The publication's rankings and editorials stem from the culmination of a six-month research period during which researchers conduct extensive interviews with litigators and their clients to identify leading litigators and firms.