OC Business Journal: Greenberg Gross to Look Both Ways on Trial Work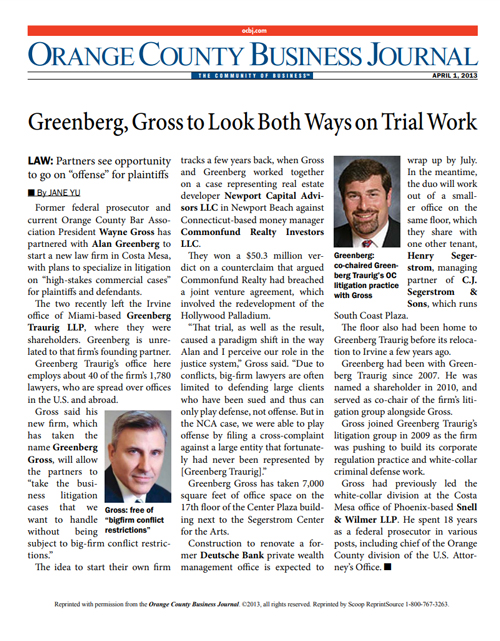 Orange County Business Journal
by Jane Yu
April 1, 2013
Former federal prosecutor and current Orange County Bar Association President Wayne Gross has partnered with Alan Greenberg to start a new law firm in Costa Mesa, with plans to specialize in litigation on "high-stakes commercial cases" for plaintiffs and defendants.
The two recently left the Irvine office of Miami-based Greenberg Traurig LLP, where they were shareholders. Greenberg is unrelated to that firm's founding partner.
Greenberg Traurig's office here employs about 40 of the firm's 1,780 lawyers, who are spread over offices in the U.S. and abroad.
Gross said his new firm, which has taken the name Greenberg Gross, will allow the partners to "take the business litigation cases that we want to handle without being subject to big-firm conflict restrictions."